December 13, 2021
HPS Vigour
Being originated from innovation and adept at manufacturing intelligently , the 5th China (Foshan) International hydrogen energy and fuel cell exhibition was successfully concluded
---
On December 8-10, the 5th China (Foshan) International hydrogen energy and fuel cell exhibition ended. The exhibition attracted nearly 300 enterprises from all over the world. As a domestic leading fluid control system solution service provider, vigour appeared at the exhibition with innovative achievements such as the latest research and development of fluid control system, pressure reducing valve and pipe valve accessories, advanced technology and solutions, with a simple and atmospheric design style, The unique product booth layout makes visitors stop one after another to take good care of the booth.
The products exhibited in this exhibition cover the upstream and downstream industrial chain of hydrogen energy, including hydrogen energy infrastructure, fuel cells, core parts, materials, fuel cell vehicle manufacturing, industrial cooperation, hydrogen production, storage, transportation, hydrogen utilization, etc. Vigour's VUPS fluid control system products in this exhibition are favored by many new and old customers, of which vsr-12LS pressure regulator is the most, which has become the focus of attention in this exhibition.
During the exhibition, with its brand hard power, market insight and in-depth R & D ability, vigour still attracted a large number of new and old customers to inquire even under the influence of the epidemic, which ignited the great enthusiasm of people from all walks of life who came to the exhibition. With professional solutions, high-quality products and customer-oriented services, vigour has attracted the attention and high recognition of the industry. With the professional answers and considerate services of vigour team, many on-site consulting customers hope to have in-depth cooperation through this opportunity.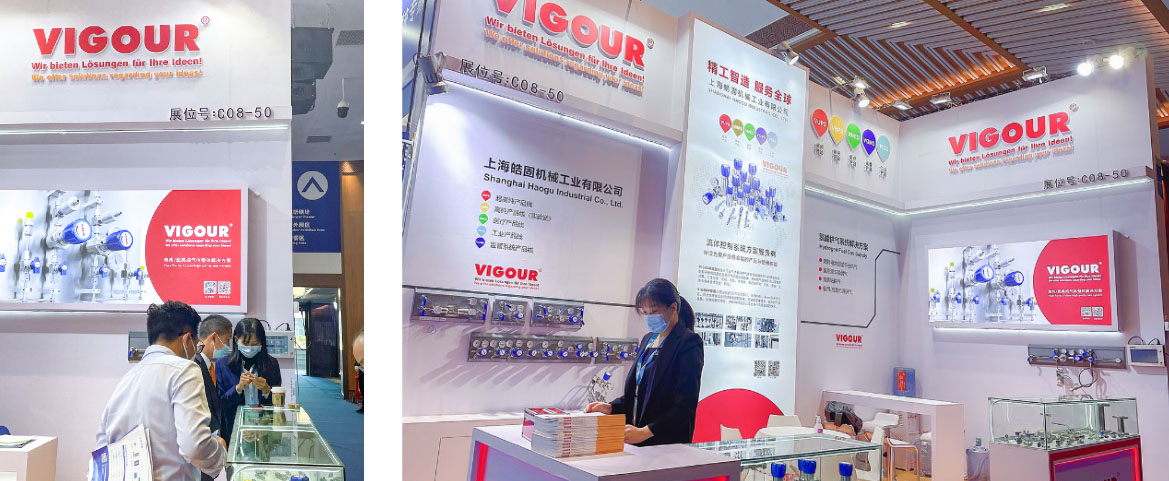 Intelligently  manufacturing and globally servicing
Vigour– Shanghai Haogu Industrial Co.,Ltd., with three major office production centers in the world, is an international leading provider of ultra-high purity fluid control system solutions. The company introduces the core technology of German valve industry and innovates and develops high-quality ultra-high purity fluid pressure reducer, centralized gas supply control system and related equipment. We always practice the German's preciseness and their persistent pursuit of product technology and materials; We favor Shanghai, which is full of vitality and unlimited possibilities, and absorb the nutrients created by increasingly lean, international, professional and professional R & D, so as to continuously improve the vitality of vigour. After long-term accumulation, precipitation and continuous investment, Haogu has a strong production, marketing and research service team, formed a complete technology and product system, has a high level of R & D and design ability, reserves a wealth of forward-looking technologies, and has a large number of core technology patents and intellectual property rights in the field of high-purity fluid control system. At the same time, Haogu insists on opening the boundary, linking upstream and downstream resources of the industry, establishing an industrial environment of "mutual growth, symbiosis and regeneration" and a win-win and prosperous business ecosystem with partners, jointly layout future intelligent technologies and cutting-edge products, deeply explore the development trend of ultra-high purity fluid control system in the future, and redefine ultra-high purity fluid equipment, Create products suitable for different gases and scenes, and continue to provide users with excellent products and use experience.  Enjoy exquisite products which are originated from Germany .Haogu makes every user experience the industrial art within reach!
Go and head for where you desire to
In the future, we will go all out and continue product innovation. Make further achievements in the field of fluid control system, provide customers with more professional and exquisite hydrogen energy industry application products, and conduct in-depth market discussion and technical exchange with our partners. We never stop, never forget our original heart, forge ahead, and look forward to seeing you next time!